Have you ever dream to start your own blog and looking forward to earn good profit from it, but are you confused between WordPress.com and WordPress.org? Then answer is WordPress.org, where you need to host your website on a server and for that you will need best WordPress hosting provider. Unfortunately, many bloggers failed to select the best WordPress hosting provider and end up with the bad results. However, selecting a reliable WordPress hosting provider is helpful for boosting the website performance, offering security and other superior features for protecting the website.
Selecting the best web hosting usa is first step to build your successful wordpress website, SPG Techsoft help you decide on one that's the best for your personal and businesses like yours to choose the most reliable hosting for WordPress website.
Managed Vs Unmanaged WordPress hosting:
While buying a WordPress hosting, you will come across these terms "Managed and Unmanaged hosting.  Being a newbie, you will not understand these terms, so to help you to understand them, I will explain these two concepts in detail below:
Managed Hosting: It is regarding the website and server management as your hosting provider is taking care of this. This means that factors like website security, uptime, updates and server configuration, etc is monitored by the provider. You only need to focus on your business expansion.
Un-Managed Hosting: Here the scenario is completely opposite means if you are fully aware of technical concepts regarding server and website management then un-managed hosting is the ideal solution for you. You get a server with only operating system installed on it and it's your decision whether to install WordPress, manage the server or upgrade the security, etc.
Don't get panic with the word Un-managed even though it's a challenging job, but you can learn the ins and outs of the platform.
Advantages of Managed Hosting:
1) Decreases the operating costs:
There are various hidden costs in un-managed hosting services. You are required to hire a database admin, system admin and other staff to manage the servers. Whereas in managed hosting, you will completely eliminate the extra costs. If you have purchased WordPress hosting from one of the best WordPress hosting providers, this will save your money and time.
2) Server monitoring:
Managed hosting empowers proactive detection of vulnerabilities and irregularities for the smooth working of the business. This will keep your website and server working efficient 24*7. In un-managed hosting, you have to posses the technical knowledge about server and website management or hire a special team for the same.
3) Support anytime and everytime:
If you opt for managed hosting service, it is 100% sure that you will get quality support service. Your hosting provider will help you to tackle the challenges which you will face in the future. The support staff of the hosting provider is highly experienced and this will help you to sort the glitches and other issues.
4) Backups:
In managed hosting, your website data is secure because your provider takes backup on daily or weekly basis. They know the strategies to overcome the data loss issue, whereas in un-managed, you can't take backup of your data efficiently. If you lose any data then you are answerable to the same.
Advantages of managed WordPress hosting is infinite and you have to buy the managed WordPress hosting to experience these infinite advantages. This post will help you to select the best Managed WordPress Hosting India provider to host your new website or you can consider to migrate your website.
1) DomainRacer:

DomainRacer is a leading trusted and popular web hosting company that offers various hosting plans including wordpress hosting shared hosting, reseller hosting, and vps hosting, etc. If you want to start your business, blog website then DomainRacer wordpress hosting plans India is best for you to start, because they use LiteSpeed and CloudLinux technologies to make sure your website is secure, fast loading and high performance.
DomainRacer offer different wordpress web hosting plans that are mentioned below: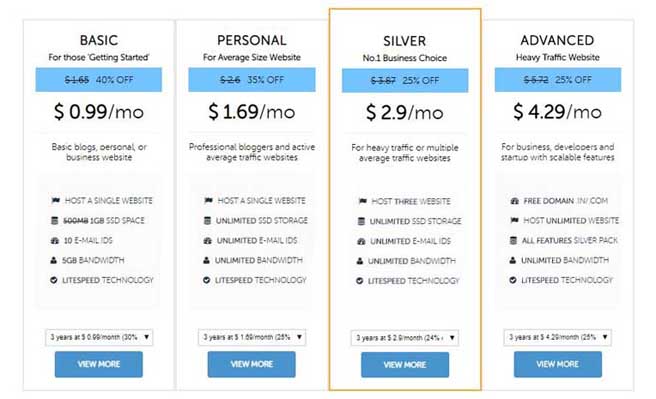 DomainRacer will offer you remarkable features like:
Unlimited SSD Storage Space and Bandwidth
Free Migration with SSL Certificate
CloudLinux and LiteSpeed Technology
1 – Click Auto Installer – WordPress
Enhanced and Easy to use cPanel
Complete Domain Management
Secure WordPress – ImunifyAV+, Imunify360 and many more.
24/7/365 Server Monitoring Customer Support
HTTP/3 and QUIC Latest Technology
CMS Based Hosting Services
Free JetBackup Weekly Service
Free SitePad Website Builder
Reliability and Scalability
7+ Data Centre Servers (India, UK, USA, Germany, Singapore, France and Canada etc.
You can reach DomainRacer support team 24/7 via email, live chat, ticket, call and whatsapp. Also, they provide knowledge base, blog and YouTube video series that will help you with the best solution.
2) MilesWeb:

MilesWeb was founded in 2012 and is located in Nashik, Maharashtra. In India, they are the first Unlimited Web Hosting company that has collaborated with Jetpack and they are successfully featured on Jetpack website. If you are a blogger, web developer, designer or webmaster then MilesWeb WordPress hosting is ideal for you. They offer two server locations for WordPress that is India and USA. Their WordPress hosting consists of two different types of plans that are mentioned below:


Both the plans consists of different features that you can buy depending on your requirement.
MilesWeb will offer you features like:
Fully Managed WordPress
Free migration and SSL Certificate
 Server level caching, WordPress pre-configured, automatic WordPress updates.
Cloning
CDN
Railgun
 Daily backups
 Fast SSD storage and Provisioning
 WP – CLI, Brotli, Compression, SFTP.
 Secure emails
Jetpack premium and professional
You can reach them via chat, support and email. Their support team consists of experts who have quality knowledge that will help you with the best solution. If you want qualitative WordPress service at competitive price then MilesWeb is your right destination.
3) Bluehost: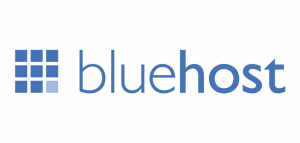 Bluehost is yet another popular web hosting company that exists in the hosting market from a decade. They offer all types of hosting services right from domain to basic web hosting, shared, reseller, WordPress, etc. For WordPress, they offer two different plans one is WordPress hosting and second is WordPress hosting + Security Suite: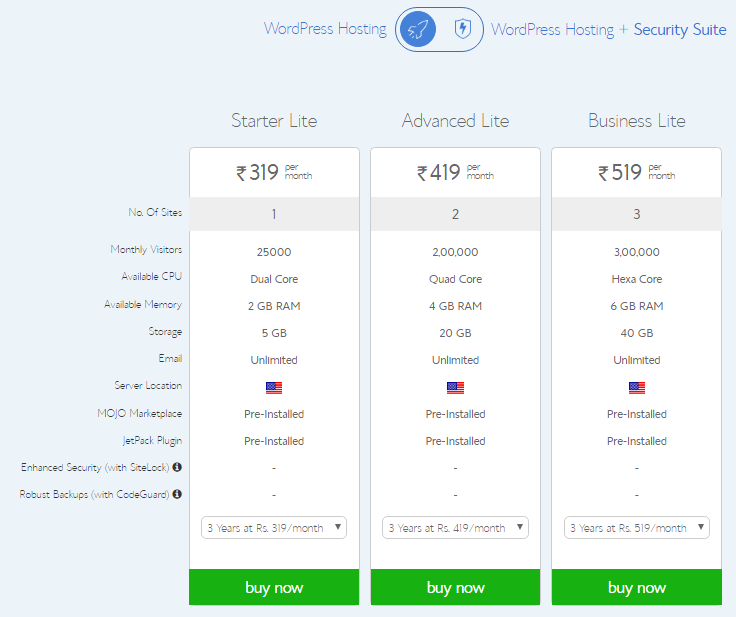 From the above screenshots, you can see that in terms of pricing MilesWeb rank first and it is affordable for everyone like you than Bluehost.
Bluehost will offer you features like:
 Free SSL
 Easy 1 – click installation
 Scalability
 Enhanced cPanel
 Instant provisioning
You can access Bluehost's support 24*7*365 and they are reachable via chat, phone and email.
 Add One of the bonus hosting for WordPress : Dreamhost
Dreamhost stands on  position in this list and you can consider them for buying WordPress hosting plan. Their WordPress plan is ideal for bloggers, small business, eCommerce, designers and developers. They provide two plans in WordPress that are mentioned below: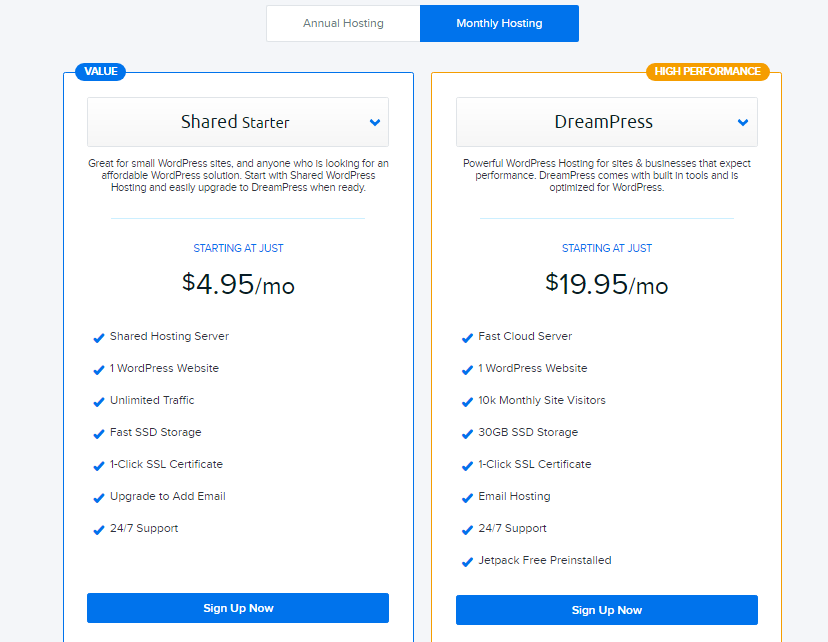 From the above snaps, you can assume that again MilesWeb is on first position in terms of pricing than Dreamhost. Moreover, only their "DreamPress" plan consists of the feature called "Jetpack Free Preinstalled", whereas in MilesWeb WordPress hosting + Free Jetpack plan, you get free Jetpack feature included in all the plans along with superior features. Additionally, if you want more advanced features of Jetpack then you can buy MilesWeb WordPress hosting + Jetpack Professional plan.
Dreamhost will offer you features like:
1 – click SSL Certificate
 Fast SSD storage
 Custom control panel
SFTP access
WP – CLI
Complete domain management
 Web Application Firewall
 Secure Email accounts
If you check their support time then you will notice, they have mentioned the time of contacting them which is 8am – 4pm PT. It means that they are not available 24*7 to serve you, whereas MilesWeb is present 24*7*365 days to serve you.  In case, you encounter with an emergency issue, then it would be difficult to clear your query with Dreamhost support.  You can connect them via chat, phone and email.
Final Verdict:
Finally, I end here the Managed WordPress hosting comparison. Based on above mentioned comparison, I will rank DomainRacer on first,  MilesWeb on second and Bluehost on third position. In terms of pricing, support and features MilesWeb wins the heart in comparison to other providers. Found this comparison worth? Do share on your social networks and suggest MilesWeb to others.